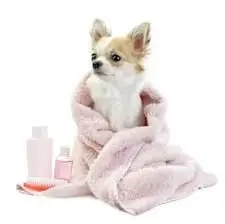 Pet Bathing Services from a Veterinarian in Thomasville, GA
Taking your pet a bath is easier said than done. At Clanton Malphus Hodges Vet Hospital - AVG, our veterinarian in Thomasville, GA, wants to help you get your pet clean and smelling fresh! That's why we offer a variety of pet bathing services, such as pet grooming, cat grooming, and dog grooming services! Below are some of the many ways our pet bathing services can help your pet's health.
Do I Need Pet Bathing Services?
Yes! Regular bath times are essential for maintaining your pet's health and hygiene. Not only can it help to de-tangle their fur or coat, but regular baths also prevent skin issues such as dryness, itchiness, and irritation. Additionally, when you bring your pet in for a professional pet bathing service, our expert groomers will be able to check for any underlying health problems that might need attention — like fleas or ticks — before they get worse.
Pet Bathing Services
We offer a range of pet bathing services for cats, dogs and other small pets. Our experienced groomers use the highest quality products to ensure the best results possible. Some of the services we provide include:
Dog grooming: This includes coat trimming, brushing and shampooing. We can also provide dogs with nail clipping, ear cleaning, and wax removal.
Cat grooming: Our cat-grooming services include an overall tidy-up of your kitty's fur and brushing or combing to get rid of any knots or tangles.
Small pet bathing: This includes hamsters, gerbils, guinea pigs and other small animals that need regular baths.
We also offer flea treatments for cats and dogs, so if you suspect your pet has fleas, we recommend bringing them in for a check-up!
At AVG Veterinary Hospital, we strive to make sure our clients' pets look and feel their absolute best.
How Often Should I Give My Pet a Bath?
The frequency of baths will depend on the type and breed of your pet. Generally speaking, cats should have a bath every four to six weeks, while dogs should have one every three to four weeks. Depending on size and hair length, small pets may need weekly or bi-weekly baths.
Contact Us Today for High-Quality Pet Bathing Services
If you're looking for professional grooming services for your pet in Thomasville, GA area, contact Clanton Malphus Hodges Vet Hospital. Our experienced team is dedicated to making sure your pet looks and feels their best with our comprehensive pet bathing services. Call (229) 226-1914 for an appointment. We look forward to hearing from you!