Pet Surgery from Our Veterinarian in Thomasville, GA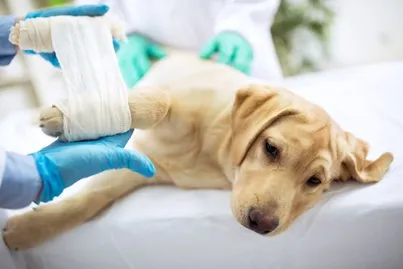 From regular spay and neuter surgery to emergencies, there are many instances your cat or dog might require pet surgery. At Clanton Malphus Hodges Vet Hospital, our team is here to help answer any questions about pet surgery. Read on below to learn about our services in Thomasville, GA, and how they can keep your pet healthy and happy.
What Is Pet Surgery?
Pet Surgery is a medical procedure used to diagnose and treat various conditions in cats and dogs. This method includes routine spaying or neutering, as well as more complex surgeries like:
Abdominal Procedure - In this procedure, we make an incision in the abdomen and explore for any abnormalities.
Soft Tissue Surgery - Soft tissue surgery can repair injuries caused by trauma or infection. These injuries could include amputations, laceration repairs, or tumor removals.
Orthopedic Surgery - Orthopedic surgery is typically used to correct musculoskeletal problems, such as fractures or joint issues. This surgery could repair broken bones, synthetic ligament replacement, or even total hip replacement.
Spay and Neutering - Spaying and neutering is a standard surgical procedure to prevent pet overpopulation. This medical practice is highly recommended for any pet not intended for breeding purposes.
If your pet needs any of these surgical procedures, you can trust the experts at Clanton Malphus Hodges Vet Hospital to provide quality care in a safe environment.
How Our Veterinarian Can Help
Clanton Malphus Hodges Vet Hospital provides the highest quality care for pet surgery. We offer various services to ensure your cat or dog has a healthy and happy life. Our experienced veterinary surgeons provide compassionate care while utilizing their extensive knowledge to perform safe and effective procedures on cats and dogs of all sizes. We also provide aftercare instructions to ensure your pet recovers quickly from surgery.
During the aftercare process, we will supply you with the necessary medications and instructions to help your pet heal properly. We also recommend regular check-ups following the procedure to ensure your pet is feeling its best.
Your Pet's Health is Our Priority
At Clanton Malphus Hodges Vet Hospital, we understand that deciding to have a pet undergo surgery can be difficult. Our experienced veterinary staff is here to provide you with all the information you need to determine what's best for your furry friend. Whether it's spay and neuter surgery, soft tissue repair, or orthopedic surgery, we have the expertise and resources to ensure your pet receives quality care! So call us today at (229) 226-1914 to schedule your pet's health.