Clanton-Malphus-Hodges Veterinary Hospital is the only International Canine Semen Bank center in Georgia. We provide all of your canine reproductive needs.
Our services include semen collection, assisted hand breeding, onsite artificial insemination, surgical insemination, and shipping either chilled or frozen semen. You can have your semen shipped to us for surgical insemination or for short/long term storage.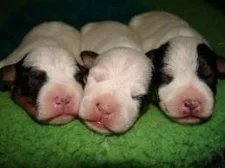 Timing is always key with breeding. We provide 24 hour progesterone results for accurate ovulation timing. We can provide kits for shipping chilled semen, as well as providing a kit for your veterinarian to extend semen and return ship to us for freezing and storing. We also carry reproductive vitamins, that help with increasing sperm counts. We ship via UPS.
** SEMEN COLLECTION AND FREEZING IS AVAILABLE ON MONDAY, WEDNESDAY AND FRIDAY MORNINGS AT 8AM OR 10AM OR 2PM ON MONDAYS AND WEDNESDAYS. APPOINTMENTS ARE REQUIRED!
** COLLECTION AND FRESH CHILL SHIPPING IS AVAILABLE MONDAY THROUGH FRIDAY MORNINGS. APPOINTMENTS ARE REQUIRED!
** SURGICAL ARTIFICIAL INSEMINATION IS AVAILABLE ON SATURDAY AND SUNDAY, HOWEVER ADDITIONAL FEES APPLY.
For Reproduction Services and Fees - click the link provided below.
Reproductive Services Information and Pricing
A complete and signed authorization to collect and freeze semen must be received prior to our semen technician starting the process.
Authorization to Collect and Freeze Semen
Prior to shipping or use of frozen semen, a frozen canine semen release form must be completed in full. No semen will be shipped without this form being completed in full.
Frozen Canine Semen Release Form
Please understand that the shipping tank is 15x17x23" and


has a dimensional weight of 46 lbs. Shipping fees are set by UPS.
COMPLETED FORMS SHOULD BE FAXED TO (229) 227-1757 OR
EMAILED TO [email protected].